Tactics for Optimizing Donor Meetings
Navigating how, when, and where you engage with donors is complex. Learn how to execute impactful meetings—no matter the type—with your donors and potential donors in Tactics for Optimizing Donor Meetings. The session will prepare you to conduct purposeful, action-oriented meetings by employing Advancement Resources' research-backed five-step meeting process.
Walk away with a micro-strategy in place for one of your real-life donors—and the skills to apply the concepts learned in creating powerful strategies for success in meetings. You will gain valuable ideas for engaging with donors from both our accomplished facilitators and your fellow participants as you explore together the donor-centric approach to meetings. Through its hands-on learning approach, this workshop will deliver in elevating your donor engagement to a higher level through purposeful meetings.
The recommended preparation for this workshop is The Art and Science of Donor Development (ASDD). Please click here for a complete list of ASDD offerings.
Upcoming Virtual Workshops
---
There are no workshops scheduled at this time.
Subscribe to our email communication lists to receive updates on our upcoming offerings.
Audience
---
Major gifts professionals
Development leaders
Planned giving officers
Other fundraisers interested in expanding their major gifts mindset
Investment
---
$445 USD per participant (early bird rate available)
Learning Objectives
---
Craft action-oriented objectives in preparation for donor meetings as part of an overall donor engagement strategy.
Implement a five-phase donor meeting process that leads to action.
Utilize a variety of methods to secure meetings with donors and potential major donors, including using value propositions, leveraging referrals/introductions, and responding to objections.
Ask high-value questions of donors that will guide and refine engagement strategy.
Exercise a variety of tactics to build trust-based working relationships with organizational partners.
Conduct collaborative meetings with key organizational partners.
Learn key tips for optimizing virtual meetings.
DOWNLOAD Tactics for optimizing donor meetings SYLLABUS and Learning Objectives
Testimonials
---
Tactics for Optimizing Donor Meetings did a fantastic job in reinforcing how vital our work is during this time. This session provided tools for engaging and doing this work during this difficult time as well as applying these strategies to keep fighting on.

—Director of Development
The Tactics for Optimizing Donor Meetings provides an ability to learn and hear from other colleagues in the field. Having completed The Art and Science of Donor Development beforehand, this training provided a nice refresher. Most importantly, it provided an opportunity for my team (who also attended) to grow in their donor strategy efforts and apply to their work in a more confident manner.

—Director of Development
During the session, there are many opportunities to connect with a collection of different development officers and various experiences. This was super helpful! Also, having the opportunity to ask questions was great and lastly the workbook will be excellent to refer back too. All around superb! Thank you!

—Research Center Director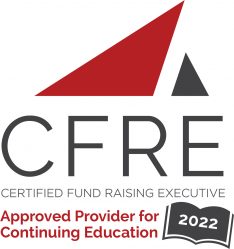 This workshop is applicable for continuing education points in the CFRE International application for initial certification and/or recertification.