Donor Development Resources During a Time of Crisis
During challenging times, business keeps going. Advancement Resources is pleased to share several resources so you and your team can continue to drive meaningful philanthropy during this unique time.
---
Building Strong Teams: Communication and Engagement in a Virtual World
Dr. Dorman, President of Georgia College and State University, and Monica Delisa, Vice President for University Advancement at Georgia College and State University, will join Ben Golding, CEO of Advancement Resources in a strategic discussion on how to develop stronger teams through communication and engagement while in a virtual world.  As Georgia College plans for a return to campus in the fall, numerous cross-functional teams have come together to make this transition possible.  This discussion will cover the leadership principles behind clear and consistent communication across multiple constituencies coupled with an internal focus on team engagement while operating virtually.
This webinar is suggested for all advancement professionals with a focus on those in higher education and leadership roles.
Thursday, June 4, 2020
11:00 a.m.–12:00 p.m. CDT
All registrants will receive a link to access the recorded webinar once the recording is processed and completed.
Why are some healthcare philanthropy teams essential and others were sent home? Leaders have a responsibility to make philanthropy essential in the shifting culture of a healthcare organization. Join us for a conversation with healthcare philanthropy leaders as we discuss the role in engaging the C-suite, guiding strong investment in philanthropy, and weaving philanthropy into the culture of your healthcare organization.
---
Events play an important role in donor engagement and fundraising. While we are now not meeting in person, you can still create a meaningful, memorable, and impactful event for your audience. Join Lynnea Golding of Advancement Resources and Ron Rausch of Wired Production Group as they explore the strategies, content, and things to consider for creating your impactful virtual experience.
---
Join our highly interactive webinar as Mark McCampbell and Sandi Wilson of Advancement Resources and Scott Senatore, President of Vidant Health Foundation, explore the successes and challenges, and the importance of portfolio and prospect management. Register for this live webinar experience to join the conversation, with Q&A throughout.
---
Public Virtual Offerings
Group Discount for Virtual Offerings: Sign up 5 or more team members and receive a 20% discount.* Please register the entire group at the same time to receive this special rate.
*Group must register for the same date/offering for discount to apply.
The Art and Science of Donor Development
The four-part virtual workshops will be held on the following dates:
June 8, 9, 10, and 11, 2020
July 13, 14, 15, and 16, 2020
August 10, 11, 12, and 13, 2020
September 21, 22, 23, and 24, 2020
Coaching! An Intense Workshop for Development Leaders
The live, two-part series will be held from 11:00 a.m.–3:00 p.m. CT:
Professional Fundraising for Deans and Academic Leaders
The live, two-part series will be held from 11:00 a.m.–3:00 p.m. CT:
June 18–19, 2020
August 26–27, 2020
Navigation Points for Accelerating Donor Commitment
The live, two-part series will be held from 12:00 p.m.–3:30 p.m. CT:
Professional Fundraising for Nonprofit Leaders
The live series will be held from 12:00–3:30 p.m. CT on the following dates:
---
Virtual Briefings for Advancement Teams
This 90-minute session is designed for institutional advancement teams and explores strategies for communicating with donors during a time of crisis.
---
Individual Coaching Services
Our certified coaches specialize in working with development professionals of all experience levels to refine their skills and equip them for successful and fulfilling careers. Designed both to stand alone and to complement and reinforce the research-based solutions provided in our comprehensive professional development programs, coaching is an invaluable resource for professionals in every position with fundraising responsibilities, from new major gift officers to managers and leaders.
Explore Individual Coaching Services
---
Blogs
During this challenging time, a simple expression of gratitude can provide the spark our healthcare heroes need to continue their important work.
During this unique time, our healthcare professionals are being stretched thin. Use this tool to explore how and when to engage with your healthcare colleagues to share your personal appreciation, as well as the gratitude many of their patients and families are feeling for them right now.
Download COVID-19 Response Tool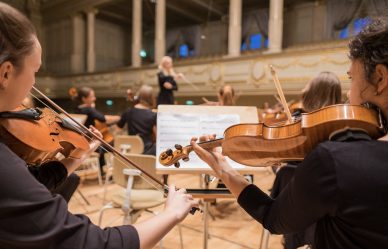 This is the perfect time to assess our operations, evaluate the integrity of our data and our system configurations, take a deep dive into our major gift portfolios, and get creative when it comes to stewardship activities.
Whether the challenge is economic, environmental, negative publicity, or a combination of the three, an opportunity exists to move relationships and support forward, even though the likelihood and timing of gift commitments may be delayed.

The leader in a time of stress cannot be paralyzed by fear. What is the right thing for the leader to do when the world is spinning and the team needs direction?

As much as it seems like life has been put on hold, there are some things that are still very much a part of our lives—like metrics. We know that things will start to return to normal at some point and the need for philanthropic support will be more important than ever. What can you do now?
---
myAR
While many are adjusting to working from home, our online reinforcement and e-Learning platform, myAR, provides many resources including videos, e-Learning modules, and print resources. If you are not already on the platform, click below to sign up for individual, complimentary access today.