Donor Development Resources During a Time of Crisis
During challenging times, business keeps going. Advancement Resources is pleased to share several resources so you and your team can continue to drive meaningful philanthropy during this unique time.
---
 Intentionality in Building a Diverse Culture of Philanthropy
Advancing Your Mission by Engaging Diverse Communities
In the evolving landscape of highly diverse populations that are both multi-cultural and global, philanthropy may be perceived in varying ways. As donor values are driven by life experiences shaped by their individual and unique perspectives, it's important to understand how those experiences influence the impact individuals want to have and the ways in which they want to engage. How can advancement professionals respond to building a diverse culture of philanthropy?
Join the conversation with UConn Foundation's Endia DeCordova, Assistant VP for Development and Strategic Initiatives, and Marinda Reynolds, Assistant VP for Alumni Relations, as well as our very own James Murphy, Strategic Partner, as we discuss intentionality in diversity for philanthropy while highlighting specific examples from The University of Connecticut Foundation.
Although this webinar will have an emphasis on higher education advancement, it is suggested for all advancement professionals.
Thursday, August 20, 2020
11:00 a.m.–12:00 p.m. CDT
Join Shanna Hocking, Associate Vice President of Individual Giving at CHOP, Yvette Marsh, Executive Director of Talent Management and Facilities at LSU Foundation, and our very own Lauri Lumm, Vice President and Senior Facilitator, for an important conversation around performance. The panelists will explore performance reviews in the current environment, providing constructive feedback to build team buy-in, and setting measurable goals for 2021 and beyond amidst uncertainty.
---
We are thrilled to host this complimentary webinar from Appreciative Philanthropy's Scott Arthur and Jim Hodge for a virtual training on navigating common anxieties found in development shops, retaining talent through creating strong culture, and inspiring significant philanthropy for our organizations. This webinar event will be hosted by Ben Golding, CEO of Advancement Resources.
---
Join special guest Angie Joens from UC Davis, Ron Rausch of Wired Production Group, and Lynnea Golding of Advancement Resources in this virtual session designed to give you a virtual event experience. During the event, we will discuss many virtual engagement questions in the donor relations field with the powerful combination of Angie's 30 years of experience in the development field, Wired Production Group's 25+ years of event production experience, and Advancement Resources' 20+ years of experience in donor-centric content design.
---
Public Virtual Offerings
Group Discount for Virtual Offerings: Sign up 5 or more team members and receive a 20% discount.* Please register the entire group at the same time to receive this special rate.
*Group must register for the same date/offering for discount to apply.
The Art and Science of Donor Development
The four-part virtual workshops will be held on the following dates:
August 10, 11, 12, and 13, 2020
September 21, 22, 23, and 24, 2020
October 19, 20, 21, and 22, 2020
November 16, 17, 18, and 19, 2020
Coaching! An Intense Workshop for Development Leaders
The live, two-part series will be held from 11:00 a.m.–3:00 p.m. CT:
Changing Hearts and Changing Minds: Inspiring Principal Giving

The live, three-part series will be held from 11:00 a.m.–3:00 p.m. CT:
Professional Fundraising for Deans and Academic Leaders
The live, two-part series will be held from 11:00 a.m.–3:00 p.m. CT:
Navigation Points for Accelerating Donor Commitment
The live, two-part series will be held from 12:00 p.m.–3:30 p.m. CT:
Professional Fundraising for Nonprofit Leaders
The live series will be held from 12:00–3:30 p.m. CT on the following dates:
---
Virtual Briefings for Advancement Teams
A series of 90-minute, virtually conducted sessions designed specifically for advancement teams.
Donor Communications During Economic Turbulence: Facilitator-led discussion on distance engagement, stewardship, and messaging to donors in an economic recession. Content based on donor research and tailored to COVID-19 response. Target audience is all advancement professionals.
Remote Manager's Tactics and Strategies: Leading remotely is challenging and requires a new set of skills and techniques. This facilitator-led discussion will touch on several time-tested methods for creating team member engagement while working remotely. Target audience is advancement managers.
Priority Setting and Personal Success: Facilitator-led discussion on donor portfolio optimization and priority setting in the current WFH environment. Target audience is advancement professionals and managers with assigned donors.
Mastering Virtual Donor Engagement: Facilitator-led discussion of strategies for virtual and remote engagement with donors and constituents. Highlighting partnerships with campus experts, students, and other beneficiaries. Target audiences is front-line advancement professionals.
Partnering with Academic Leadership: Facilitator-led discussion of key academic leader perspectives. This session will highlight partnership opportunities under the challenging conditions of working remotely. Discussions will highlight partnerships with deans and senior faculty. Target audience includes all advancement professionals that partner with academic faculty or academic leaders.
Identifying Return on Investment: Facilitator-led discussion for advancement teams to discuss ways to defend, justify, and win the buy-in and partnership with leaders of the organization. Topics will include building and making your case, follow-through, and evaluation.
---
Individual Coaching Services
Our certified coaches specialize in working with development professionals of all experience levels to refine their skills and equip them for successful and fulfilling careers. Designed both to stand alone and to complement and reinforce the research-based solutions provided in our comprehensive professional development programs, coaching is an invaluable resource for professionals in every position with fundraising responsibilities, from new major gift officers to managers and leaders.
Explore Individual Coaching Services
---
Blogs
How well did your culture of philanthropy perform during the "pandemic stress test?" What lessons can you draw from the past few months of disruption to inform your fundraising strategy and help set priorities to move forward?
During this challenging time, a simple expression of gratitude can provide the spark our healthcare heroes need to continue their important work.
During this unique time, our healthcare professionals are being stretched thin. Use this tool to explore how and when to engage with your healthcare colleagues to share your personal appreciation, as well as the gratitude many of their patients and families are feeling for them right now.
Download COVID-19 Response Tool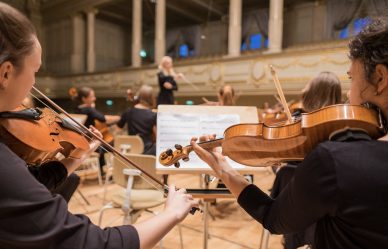 This is the perfect time to assess our operations, evaluate the integrity of our data and our system configurations, take a deep dive into our major gift portfolios, and get creative when it comes to stewardship activities.
Whether the challenge is economic, environmental, negative publicity, or a combination of the three, an opportunity exists to move relationships and support forward, even though the likelihood and timing of gift commitments may be delayed.

The leader in a time of stress cannot be paralyzed by fear. What is the right thing for the leader to do when the world is spinning and the team needs direction?
---
myAR
While many are adjusting to working from home, our online reinforcement and e-Learning platform, myAR, provides many resources including videos, e-Learning modules, and print resources. If you are not already on the platform, click below to sign up for individual, complimentary access today.