International Academy for Advancement Leadership
A Comprehensive Program
Empathetic and adaptive leaders who can harness the power of teamwork to thrive in a rapidly changing environment have never been more needed—or more sought after. Ideal for the times, this innovative 6-month program brings together a robust collection of leadership best practices. By exploring these concepts in an exclusive cohort, participants have the opportunity to network with other leaders, grow their skills in critical areas, and explore challenges that can propel them to the next level of career success.
In addition to workshop sessions, each participant will experience six one-on-one coaching video calls with an Advancement Resources coach throughout the program. All Advancement Resources coaches are experienced development professionals with a passion for helping other professionals grow in their professions, address unique situations, and refine skills. Through confidential open dialog, Advancement Resources coaches can enable improved performance by suggesting strategies and techniques to manage or eliminate real and perceived barriers to success.
Robust intersession assignments between workshop sessions provide the opportunity for participants to optimize learning by immediately applying concepts and tools to real, on-the-job situations to achieve very real results—for themselves and their organizations.
This comprehensive professional growth opportunity is beneficial for leaders throughout all of advancement.
Upcoming Offerings
---
A comprehensive 6-month program beginning February 2024 | Virtual and Hybrid Options
Subscribe to our email communication to receive updates on our upcoming offerings.
Ideal Candidates
---
The International Academy for Advancement Leadership is ideal for mid- to upper-level executives who have multiple direct reports. This program is intended for those who want to improve their leadership skills to advance their careers and support the vision of their organization.
 Investment
---
$5,950 USD per participant
Virtual Syllabus:
DOWNLOAD International Academy for Advancement Leadership Virtual SYLLABUS
DOWNLOAD International Academy for Advancement Leadership Hybrid SYLLABUS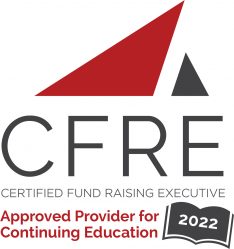 This workshop is applicable for continuing education points in the CFRE International application for initial certification and/or recertification.