Dynamics of Clinician Engagement
Engaging your clinicians as partners is vital to increasing the level of philanthropic contributions at your healthcare organization. In Dynamics of Clinician Engagement, you will discover field-tested processes that will inspire your clinician partners to connect with the power of philanthropy. Leverage Advancement Resources' 20+ years of research to gain a greater understanding of the clinician mindset to build effective, trust-based relationships with them and grow a robust referral-based medical philanthropy system ("grateful patient" program) at your organization.
Experience this dynamic, highly interactive virtual training from the comfort of your own home or the privacy of your office. Walk away with a toolkit filled with essential process concepts in medical development that you can use to infuse greater meaning into fundraising for everyone at your organization. Both the knowledge shared by our accomplished facilitators and the invigorating conversations with your fellow participants will prime you for success in medical major gifts fundraising.
Content is based on U.S. practices and privacy laws, including the Health Insurance Portability and Accountability Act (HIPAA).
Upcoming Virtual Workshops
---
Subscribe to our email communication to receive updates on our upcoming offerings.
Audience
---
Medical development professionals
 Investment
---
$795 USD per participant (early bird rate available)
Learning Objectives
---
Describe a referral-based philanthropy system and the opportunities it presents for your organization.
Recognize clinician perspectives that can lead to roadblocks in participating in philanthropy.
Apply appropriate strategies to build and sustain trust-based partnerships with clinicians.
Strengthen the culture of philanthropy at your organization by identifying and qualifying clinician partners using Advancement Resources' research-backed key concepts.
Connect with clinicians by implementing a process for philanthropic referrals that closely aligns with the process for medical referrals.
Conduct strategic meetings with clinicians.
Maximize benefits that clinicians gain through participating in philanthropy by applying the three components of Meaningful Return on Clinician Investment.
Download Virtual Dynamics of Clinician engagement Syllabus and learning objectives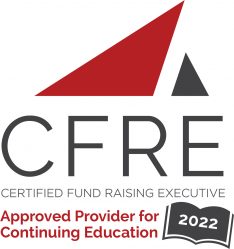 This workshop is applicable for continuing education points in the CFRE International application for initial certification and/or recertification.