Donor Development Resources for Your Success
Advancement Resources is pleased to share several resources so you and your team can continue to drive meaningful philanthropy during this unique time.
---
Webinar Series
Supercharge Your Recruiting and Retain Your Talent
"Employees are a company's greatest asset – they're your competitive advantage. You want to attract and retain the best; provide them with encouragement, stimulus, and make them feel that they are an integral part of the company's mission."
—Anne M. Mulcahy, Chairman and Chief Executive Officer of Xerox Corporation
This notable quote from Anne Mulcahy perfectly summarizes the key to recruiting, rewarding, and retaining the best talent for your team. Put your organization ahead of the hiring and retention curve in this tight job market by learning to optimize the skills and achievements of your team. Join Robin Bellinger (MCLC), Lauri Lumm, and Mark McCampbell (CFRE) for insights from their extensive experience on how to build a successful, sustainable team.
We invite you to register today for our 3-part deep dive series on recruiting, onboarding, training, and retaining. Each 60-minute webinar the panel will address a topic in depth.
Part 1: Recruiting
January 27, 2022 1:00 p.m. CT
Part 2: Retaining
February 17, 2022 1:00 p.m. CT
Part 3: Rewarding
March 10, 2022 1:00 p.m. CT

Faculty Engagement in Philanthropy
Join Megan Riebe, Associate Vice President for Development, Hajo Eicken, Professor of Geophysics and Director of the International Arctic Research Center, and Emily Drygas, Senior Director of Principal Gifts from the University of Alaska for a discussion around the impact faculty have when engaged in philanthropy. This 60-minute webinar will highlight the intentionally the University of Alaska has behind engaging their faculty and ensuring their understanding in philanthropy. The panel will explore the system, unit, and development levels of successfully building relationships and the impact this has had on the entire University of Alaska institution.
---
Insights from the Experts: A Webinar Built by You, for You
As a medical development professional, you've undoubtedly experienced challenges throughout your career when engaging clinicians in the development process. How did you overcome those challenges? Were you able to ask a trusted fellow development professional for their advice? How about a clinician?
For questions left unanswered (or unasked), ask our experts! During this webinar, two of Advancement Resources healthcare experts will answer the questions you've been holding back. Join Dr. Cliff Harris (physician turned development officer) and Mark McCampbell (CFRE and former healthcare CDO) as they answer questions submitted by medical development professionals about their most challenging situations. Gain the insight of these two unique perspectives to accelerate your path to success.
---
Public Virtual Offerings
Group Discount for Virtual Offerings: Sign up 5 or more team members and receive a 20% discount.* Please register the entire group at the same time to receive this special rate.
*Group must register for the same date/offering for discount to apply.
The Art and Science of Donor Development
The live, five-part series will be held on the following dates:
January 31–February 4, 2022
April 4–8, 2022
Elevate: Coaching Essentials for Managers
The live, two-part series will be held on the following dates:
Changing Hearts and Changing Minds: Inspiring Principal Giving
In partnership with Appreciative Philanthropy, the live, three-part series will be held on the following dates:
International Academy for Advancement Leadership
A comprehensive 6-month program starting on February 15, 2022
Transforming Your Organization with Individual Giving
The live, three-part series will be held on the following dates:
---
Virtual Briefings for Advancement Teams
A series of 90-minute, virtually conducted sessions designed specifically for advancement teams.
The Art and Science of Donor Development Refresh: This facilitator-led discussion for past ASDD participants features a review of several key workshop tools, including the Donor Development Chart, Priority Grid, and the Process for Locating Philanthropic Passion™. The purpose is to re-engage the advancement team in the processes, concepts, and tools that drive meaningful philanthropy.
Donor Development from a Distance: This facilitator-led discussion focuses on how donor engagement can continue—and deepen—through a virtual or remote donor development strategy. The purpose is to inspire advancement teams to the vast possibilities for engaging donors, near or far.
Donor Motivation for Research: This virtual briefing kicks off a series focused on fundraising for academic research initiatives. It will focus on the primary motivators for donors that fund science research, how to connect with these types of donors, and what critical roles are played by the development team in partnership with faculty and academic leadership.
Engaging Clinicians in Philanthropy: This facilitator-led discussion explores the opportunity created through clinician engagement, common barriers and how to overcome them, and core elements of successful partnerships. The purpose is to provide a preview of Advancement Resources' vast research into clinician engagement.
Mastering Virtual Donor Engagement: This facilitator-led discussion presents strategies for virtual and remote engagement with donors and constituents, featuring practical advice from virtual engagement experts. The purpose is to equip advancement teams to leverage virtual tools to tell stories, capture videos, and bring their mission to life.
The Opportunity Story:This facilitator-led presentation equips advancement professionals to partner with subject matter experts in crafting philanthropic opportunities for a variety of audiences. The purpose is to offer a high-level view of the process for transforming a funding priority into an inspiring philanthropic opportunity.
Partnering with Academic Leadership: This facilitator-led discussion of key academic leader perspectives highlights concepts to enhance advancement partnerships with deans and senior faculty. The purpose is to provide advancement professionals with insights that will assist in building a foundation of trust with academic leaders.
Priority Setting and Personal Success: This facilitator-led discussion focuses on time management and appropriate priority setting, both in a traditional office and in the WFH environment. The purpose is to assist team members in creating clear goals and overcoming obstacles to achieve their goals.
Recovery for Teams: This facilitator-led discussion draws parallels from the world of healthcare to illustrate organizations' pathways to recovery from crisis, from pre-crisis health to post-crisis next steps. The purpose is to equip advancement teams with the tools to hit the ground running with a philanthropically healthy operation post-crisis.
Remote Manager's Tactics and Strategies: This facilitator-led discussion touches on innovative methods for creating team member engagement for teams that work remotely. The purpose is to drive greater team member engagement, retention, and performance from a distance.
Donor Insights 2021:This facilitator-led discussion presents Advancement Resources' research study into the evolving attitudes and giving habits of major donors in the United States and Canada, as affected by the events of 2020. The purpose is to better understand the current donor climate and how advancement can engage donors based on their various responses to crises.
Optimizing the Follow-up Meeting:This facilitator-led discussion is delivered in tandem with Advancement Resources' workshops for clinicians and healthcare leaders and focuses on strategies for leveraging the momentum of the workshop to drive clinician engagement. The purpose is to equip fundraisers to conduct purposeful, productive meetings with clinicians.
---
Individual Coaching Services
Our certified coaches specialize in working with development professionals of all experience levels to refine their skills and equip them for successful and fulfilling careers. Designed both to stand alone and to complement and reinforce the research-based solutions provided in our comprehensive professional development programs, coaching is an invaluable resource for professionals in every position with fundraising responsibilities, from new major gift officers to managers and leaders.
Explore Individual Coaching Services
---
Blogs
How well did your culture of philanthropy perform during the "pandemic stress test?" What lessons can you draw from the past few months of disruption to inform your fundraising strategy and help set priorities to move forward?
During this challenging time, a simple expression of gratitude can provide the spark our healthcare heroes need to continue their important work.
During this unique time, our healthcare professionals are being stretched thin. Use this tool to explore how and when to engage with your healthcare colleagues to share your personal appreciation, as well as the gratitude many of their patients and families are feeling for them right now.
Download COVID-19 Response Tool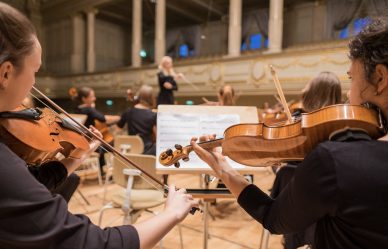 This is the perfect time to assess our operations, evaluate the integrity of our data and our system configurations, take a deep dive into our major gift portfolios, and get creative when it comes to stewardship activities.
Whether the challenge is economic, environmental, negative publicity, or a combination of the three, an opportunity exists to move relationships and support forward, even though the likelihood and timing of gift commitments may be delayed.

The leader in a time of stress cannot be paralyzed by fear. What is the right thing for the leader to do when the world is spinning and the team needs direction?
---
myAR
While many are adjusting to working from home, our online reinforcement and e-Learning platform, myAR, provides many resources including videos, e-Learning modules, and print resources. If you are not already on the platform, click below to sign up for individual, complimentary access today.