Donor Development Resources for Your Success
Advancement Resources is pleased to share several resources so you and your team can continue to drive meaningful philanthropy during this unique time.
---
Insights from the Experts: A Webinar Built by You, for You
As a medical development professional, you've undoubtedly experienced challenges throughout your career when engaging clinicians in the development process. How did you overcome those challenges? Were you able to ask a trusted fellow development professional for their advice? How about a clinician?
For questions left unanswered (or unasked), ask our experts! During this webinar, two of Advancement Resources healthcare experts will answer the questions you've been holding back. Join Dr. Cliff Harris (physician turned development officer) and Mark McCampbell (CFRE and former healthcare CDO) as they answer questions submitted by medical development professionals about their most challenging situations. Gain the insight of these two unique perspectives to accelerate your path to success.
While registering, you have the opportunity to submit your questions to our panel of experts. Or, feel free to submit your question to us at info@advancementresources.org.
Please note: All questions will remain anonymous during the webinar.
Thursday, October 28, 2021
1:00 p.m.–2:00 p.m.
Changing Places: An Interview With a Healthcare Philanthropy Industry Expert
Joining a new organization can be both exciting and challenging. Dana Casson, Vice President of Philanthropy at NOVANT Health Foundation, shares her recent experience with moving organizations and making her place in the healthcare philanthropy industry. Join the conversation led by Mark McCampbell as Dana shares her insightful wisdom she's experienced in her nearly 20 year fundraising career, including what to look for when moving organizations, retaining and training a top-performing team, and identifying funding priorities that are meaningful inside and outside the organization.
---
Philanthro-Therapy: "Don't Feel Our Pain"
Philanthropy is all about joy, so why is it often so stressful? Join us for a conversation around learning from fear, anxiety, and pain in our work and the profession. We are closing the "Philanthropic School of Hard Knocks," and opening conversations that are more joyful for benefactors and professionals in philanthropy—and more transformational for our organizations too.
Advancement Resources' Senior VP, Mauria Brough, moderates an impactful and timely discussion with Scott Arthur and Jim Hodge, the innovative leadership team at University of Colorado's Anschutz Medical Campus and founders of Appreciative Philanthropy.
---
Success When Things Don't Go Exactly to Plan
Advancement Resources and The University of Queensland (UQ) discuss the perfect illustration of how to celebrate when things DON'T go as planned. UQ offered one of the most promising COVID vaccinations in the world. Money and donors poured in as people wanted to be a part of the solution and to simply do something. From the multi-million dollar donations to the $1 donations, UQ took a proactive and transparent approach. When the UQ vaccine didn't become the vaccine we had all hoped it would, donors and the community still celebrated a greater success. Ted Wynn and Mark Schroder of the UQ advancement team share how they prepared, responded, and the work still being done to engage donors.
---
How Major Donors Were Shaped By the Events of 2020—Highlights from Advancement Resources' 2021 Donor Insight Report
Advancement Resources' Mauria Brough, Senior Vice President and Ven Batista-Pedro, Senior Researcher share insights and analysis from our new report based on first-hand interviews with major donors about how they feel in 2021. This 60-minute session will:
Reveal key findings backed by real quotes from donors.
Give you an inside glimpse into the effect 2020 had on donors' long-term philanthropic values and the balancing of their portfolios.
Uncover the Donor Response Personas—a unique framework for thinking about donor engagement in 2021 and beyond.
---
Public Virtual Offerings
Group Discount for Virtual Offerings: Sign up 5 or more team members and receive a 20% discount.* Please register the entire group at the same time to receive this special rate.
*Group must register for the same date/offering for discount to apply.
---
Virtual Briefings for Advancement Teams
A series of 90-minute, virtually conducted sessions designed specifically for advancement teams.
The Art and Science of Donor Development Refresh: This facilitator-led discussion will focus on distance engagement, stewardship, and messaging to donors in an economic recession. All content is based on donor research and tailored to COVID-19 response. The facilitator will review the key tools including the Donor Development Chart, Priority Grid, and the Process for Locating Philanthropic Passion. The purpose will be to re-engage the advancement team in the process concepts and tools available through their previous AR training.
Board Members and Philanthropy: A virtual briefing for board members that couples nicely with remote board member engagement. This session focuses exclusively on the donor development process and the role of board members in engagement. Participants will discuss techniques to carry the organization's vision into the community in a virtual environment and ways to discover donors' stories that match the vision of the organization.
Donor Communications During Economic Turbulence: Facilitator-led discussion on distance engagement, stewardship, and messaging to donors in an economic recession. Content based on donor research and tailored to COVID-19 response. Target audience is all advancement professionals.
Donor Development from a Distance: This facilitator-led discussion will focus on distance engagement, stewardship, and messaging to donors in an economic recession. All content is based on donor research and tailored to COVID-19 response. The facilitator will deploy key tools including the Donor Development Chart, Priority Grid, and the Process for Locating Philanthropic Passion.
Donor Motivation for Research: This virtual briefing kicks off a series focused on fundraising for academic research initiatives. It will focus on the primary motivators for donors that fund science research, how to connect with these types of donors, and what critical roles are played by the development team in partnership with faculty and academic leadership.
Engaging Clinicians in Philanthropy: A facilitator-led discussion on the critical partnerships between development and clinicians. Participants explore the opportunity created through clinician engagement, clinician engagement barriers and solutions, the core elements of successful partnerships, and how to manage clinician expectations effectively.
Identifying Planned Giving Opportunities: This virtual briefing is designed to help all development professionals explore concepts, strategies, and tools for identifying and initiating planned giving opportunities with major gift donors. Specifically formulated for virtual learning, this session will help unlock higher level discussions around estate giving with key donors.
Identifying Return on Investment: A facilitator-led discussion for advancement teams to discuss ways to defend, justify, and win the buy-in and partnership with leaders of the organization. Topics will include building and making your case, follow-through, and evaluation.
Mastering Virtual Donor Engagement: A facilitator-led discussion of strategies for virtual and remote engagement with donors and constituents. Highlighting partnerships with campus experts, students, and other beneficiaries. Target audiences is front-line advancement professionals.
The Opportunity Story: This virtual briefing builds on the core understanding of donor motivations and defines the best methods to clearly communicate the opportunity to a variety of audiences. This session defines how to restructure a funding priority into a philanthropic opportunity that will appeal to donors.
Partnering with Academic Leadership: A facilitator-led discussion of key academic leader perspectives. This session will highlight partnership opportunities under the challenging conditions of working remotely. Discussions will highlight partnerships with deans and senior faculty. Target audience includes all advancement professionals that partner with academic faculty or academic leaders.
Priority Setting and Personal Success: A facilitator-led discussion on donor portfolio optimization and priority setting in the current WFH environment. Target audience is advancement professionals and managers with assigned donors.
Recovery for Teams: This briefing for advancement professionals shares information on how we come out of the shutdown depends on what we were doing when it started, just as with a health crisis such as major surgery, where recovery and outcomes are impacted by how healthy the patient is when the crisis hits. How healthy was your philanthropy operation when the COVID-19 crisis hit you? Are you ready for recovery? What are your next steps and when it is time to open up again?
Remote Manager's Tactics and Strategies: Leading remotely is challenging and requires a new set of skills and techniques. This facilitator-led discussion will touch on several time-tested methods for creating team member engagement while working remotely. Target audience is advancement managers.
Securing Commitment and Stewardship: This briefing will focus on securing financial commitment and delivering an exceptional stewardship experience. Participants will engage in brainstorming effective ways to personalize these activities to the individual donor.
---
Individual Coaching Services
Our certified coaches specialize in working with development professionals of all experience levels to refine their skills and equip them for successful and fulfilling careers. Designed both to stand alone and to complement and reinforce the research-based solutions provided in our comprehensive professional development programs, coaching is an invaluable resource for professionals in every position with fundraising responsibilities, from new major gift officers to managers and leaders.
Explore Individual Coaching Services
---
Blogs
How well did your culture of philanthropy perform during the "pandemic stress test?" What lessons can you draw from the past few months of disruption to inform your fundraising strategy and help set priorities to move forward?
During this challenging time, a simple expression of gratitude can provide the spark our healthcare heroes need to continue their important work.
During this unique time, our healthcare professionals are being stretched thin. Use this tool to explore how and when to engage with your healthcare colleagues to share your personal appreciation, as well as the gratitude many of their patients and families are feeling for them right now.
Download COVID-19 Response Tool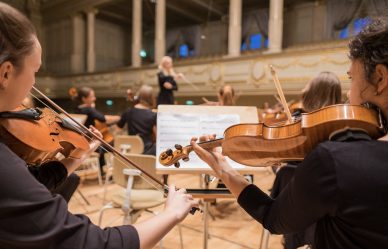 This is the perfect time to assess our operations, evaluate the integrity of our data and our system configurations, take a deep dive into our major gift portfolios, and get creative when it comes to stewardship activities.
Whether the challenge is economic, environmental, negative publicity, or a combination of the three, an opportunity exists to move relationships and support forward, even though the likelihood and timing of gift commitments may be delayed.

The leader in a time of stress cannot be paralyzed by fear. What is the right thing for the leader to do when the world is spinning and the team needs direction?
---
myAR
While many are adjusting to working from home, our online reinforcement and e-Learning platform, myAR, provides many resources including videos, e-Learning modules, and print resources. If you are not already on the platform, click below to sign up for individual, complimentary access today.