by Jen Gunnels
As the Associate Director of Advancement Communications at Butler University in Indianapolis, Jen Gunnels is responsible for developing gift proposals and other Advancement communications content supporting the University's fundraising and community engagement efforts.
Butler Beyond: The Campaign for Butler University officially concluded May 31, 2022, as the largest and most successful philanthropic effort in the University's history. Butler President, James Danko, announced at the Beyond Grateful campaign celebration event that donors had contributed more than $263 million to the campaign, far exceeding the original $250 million goal.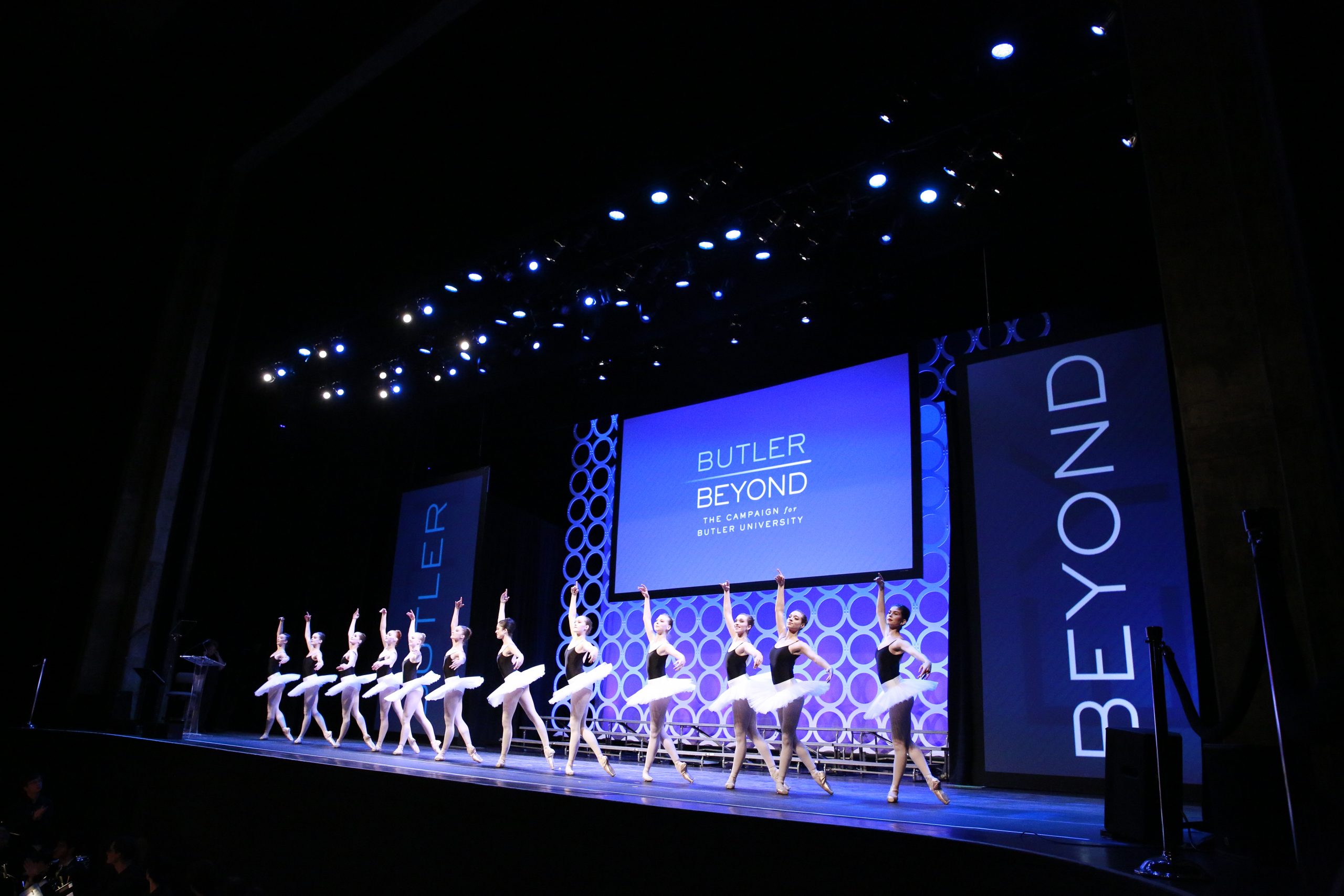 While donors were certainly the heroes of this campaign, the Butler University Advancement staff received critical support and guidance in their fundraising efforts from the Creative Services team at Advancement Resources. The team took the time to get to know Butler's culture, community, and values, which resulted in creative content that felt authentic and personal to the donor audience. The highly collaborative nature of the partnership resulted in meaningful donor engagement and a deeper sense of connection between Butler donors and the University, fostering a greater sense of community through philanthropy.
On October 5, 2019, Butler publicly unveiled its new strategic direction and $250 million comprehensive fundraising campaign during an event that was attended by nearly 1,000 donors, alumni, students, faculty, staff, and members of the local community. The event was designed, developed, and produced in partnership with the Advancement Resources team, who also created a mid-campaign impact video with one year remaining in the campaign.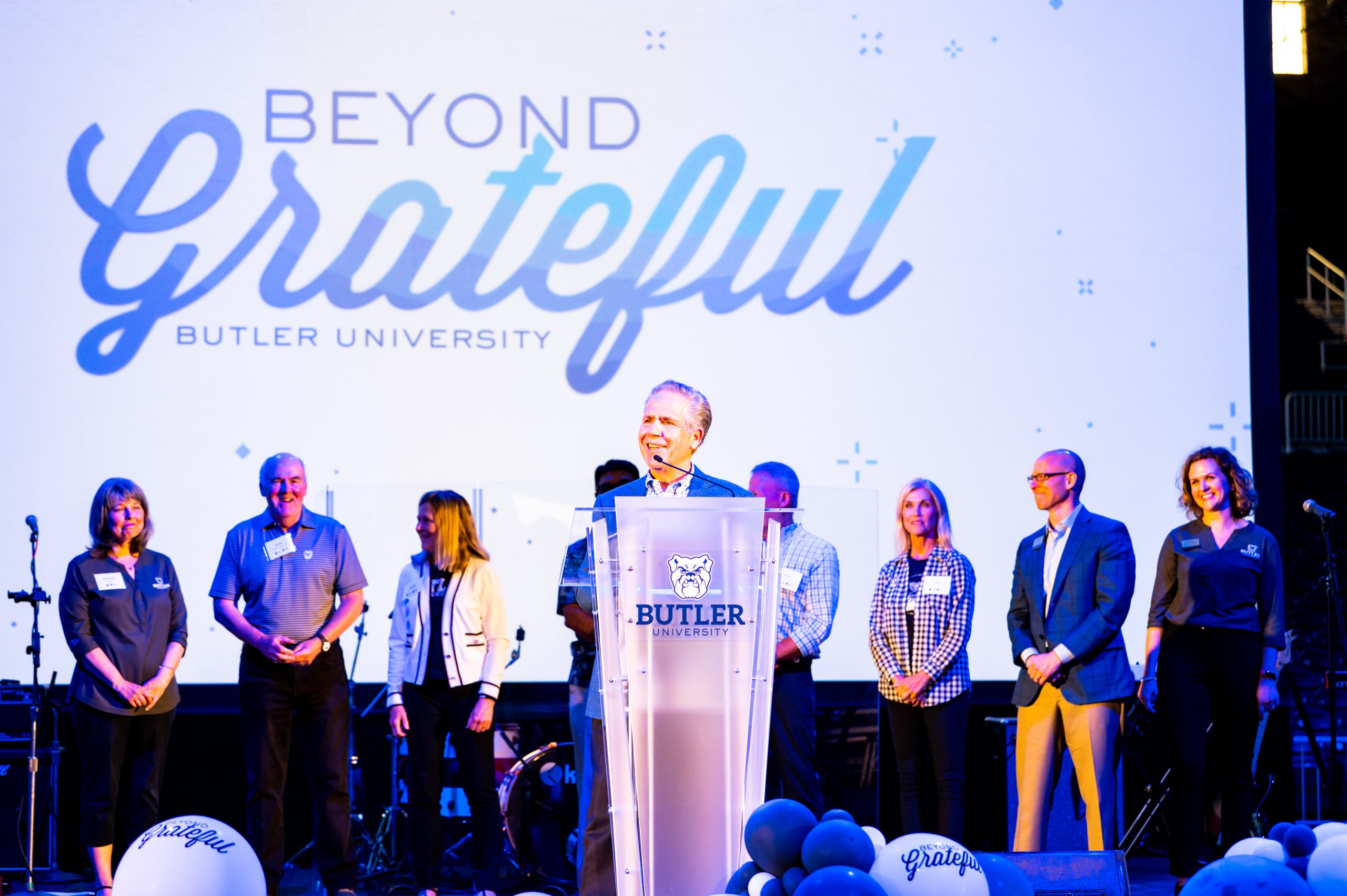 At the time of the campaign launch, donors had contributed $171 million to Butler during the quiet phase of the campaign. The launch event cast the vision for Butler's future and inspired donors to invest in that vision through philanthropy. The Advancement Resources team's guidance and expertise in creating memorable experiences and moving videos helped generate the enthusiasm and momentum that ultimately galvanized the Butler community to reach and exceed its ambitious $250 million goal—despite the enormous, unexpected challenges posed by the COVID-19 pandemic.
Gifts to the Butler Beyond campaign are now advancing the University's mission through new and enhanced campus infrastructure, an expanded scholarship endowment, and access to transformational new experiential learning opportunities and degree pathways for current and future Butler students.
In total, 35,039 donors contributed to the Butler Beyond campaign, including 13,987 donors who became first-time donors to the University during the campaign.
Major achievements during the Butler Beyond campaign included:
Expanded access to a Butler education through $63 million in new student scholarship support, including 80 new endowed scholarships.
The construction and naming of the new 110,000-square-foot Bill and Joanne Dugan Hall, thanks to more than $28.8 million in total philanthropic contributions to the facility.
Groundbreaking and opening of Phase I on the University's $100 million Sciences Expansion and Renovation project, to which donors contributed more than $37.9 million.
A second phase of renovations to Hinkle Fieldhouse thanks to more than $10.7 million in donor contributions.
Donors committed more than $96 million to Butler's endowment during the campaign, which will contribute to the University's long-term financial stability.
Philanthropic support from the campaign has provided a strong foundation from which Butler can move forward on its strategic goals. Nearly three years after publicly unveiling the University's new strategic vision, great strides have been made toward the expressed goals of enhancing the traditional undergraduate residential experience while expanding access to new learners and exploring new pathways and models of education through strategic partnerships and investments. A few of those strategic milestones have included:
October 2020: In keeping with its founding values and ongoing efforts to promote diversity, equity, and inclusion, the University established a Hub for Black Affairs and Community Engagement.
Spring/Summer 2021: Butler and Ivy Tech Community College established statewide transfer agreements for students pursuing degrees in business, art & design, and education.
September 2021: For the fourth consecutive year, Butler University was named the No. 1 Regional University in the Midwest, according to the 2022 U.S. News & World Report Best Colleges Rankings.
Fall 2021: The Butler Latinx Alumni Association was established, joining the existing Black Alumni Association and the LGBTQ Alumni Association, as the newest Butler identity community.
Fall 2021: The University developed 10 additional three-year degree tracks, bringing the total number of programs to 40, allowing students to complete their degrees in three years.
Fall 2021: Butler welcomed the most diverse incoming class in its history, with 21 percent self-identifying as students of color and 18 percent stating they are the first in their family to attend college.
December 2021: The University began construction on The Esports Park, a 7,500-square-foot learning laboratory dedicated to esports and technology slated to open in fall 2022.
January 2022: Butler launched two new online master's degree programs, a Master of Business Administration and Master of Science in Data Analytics, and re-launched the Master of Science in Strategic Communication in collaboration with online program manager Noodle Partners.
Advancement Resources is excited to partner with your organization to create donor-centric campaign events and content designed to fire the enthusiasm of your donors. Contact us to learn more.